On Wednesday, Masoud Barzani, president Kurdish Regional Government (KRG) who has Jewish family roots, proclaimed that over 3.3 million (out of 5.5 million Iraqi Kurds) of Kurds living in KRG and ISIS controlled Iraqi territory have voted to separate from Arab Iraq.
Israel had blessed the break-up of Iraq (Babylon) since the US occupation of Iraq in 2003. It wants a pro-Israel Kurdistan state established on Kurd majority areas in Iraq which eventually will expand over Kurd-populated lands in Syria and Iran.
Not only Netanyahu has publically endorsed the Kurdistan entity inside Iraq – Israeli Gen. Yair Golan speaking at the Israel lobby, the Washington Institute for Near East Policy, earlier this month said: "Given Iran's presence in the east and instability in the region, a solid, stable, coherent Kurdish entity in the middle of this quagmire is not a bad idea."
On Tuesday, Turkish president Erdogan slammed Israel's support for the establishment of an independent state. He even ranted that Ankara might break diplomatic relations with Tel Aviv.
"Who will recognize your independence? Israel. The world is not about Israel. You should know that the waving of Israeli flags there will not save you," Erdogan said.
Despite public rhetoric, United States, France, Britain and Russia all support an oil-rich independent Kurdistan for personal interests.
"Independence will give the Barzani and Talabani clans further means with which to pursue their affairs. It will also offer Israel the possibility of implementing certain of its military objectives. Since the end of the 1990's and the development of missile weaponry, Tsahal has abandoned its strategy of occupying the border regions, meaning the territories just outside its frontiers (Sinai, Golan Heights, South Lebanon). On the contrary, it intends to neutralize Egypt, Syria and Lebanon by taking them from behind. This is why Tel-Aviv supported the creation of South Sudan, in 2011, in order to place missiles pointed at Egypt, and is today supporting the creation of Kurdistan in order to place missiles pointed at Syria," Thierry Meyssan French philosopher wrote on September 26, 2017.
Peter Weber, senior editor The Week wrote in October 2015 urging US president Barack Obama to arm Syrian Kurd rebels (SDF) fighting Syrian army as they're friends of US (read Israel).
On the other hand, Daniel Larison (Jew) senior editor of Neocon mouthpiece The American Conservative is not so sure about the viability of an independent Kurdistan.
"An independent Kurdistan would be a dangerous and potentially explosive thing. It is doubtful that the government in Baghdad would agree to it, and it is also extremely unlikely that Iran or Turkey would ever approve of the creation of a Kurdish state. Erdogan has stated recently that a Kurdish state would endanger the region. A landlocked state whose independence would be opposed to one degree or another by its most important neighbors (Iran, Syria) is not likely to be a very successful one, and in that case it would probably become a dysfunctional international or US ward," he said.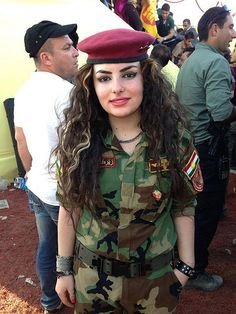 Kurd SDF fighting in Syria are armed by the US and Israel. SDF is following Israeli Sex PR – using young female women soldiers to attract world attention.
30 million Kurds like the 350 million Arabs are the victims of the same Judeo-Christian colonial powers which divided Kurd land among Turkey, Iran, Iraq, Syria and Russia at result of the Treaty of Lausanne of 1923 for their colonial interests.