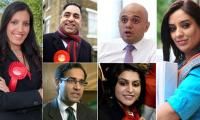 12 out of 16 Muslims elected to British House of Commons are Pakistani-origin. Five of them are female; Naz Shah, Yasmin Qureshi, Shabana Mehmood, and Polish convert to Islam, Rozeena-Allin Khan, belong to Jeremy Corbyn's Labour Party while Nusrat Ghani belongs to Theresa May's Conservative (Tory) Party.
The seven Muslim male MPS re-elected are Khalid Mehmood, Imran Hussain, Afzal Khan, Mohammed Yasin and Faisal Rasheed from Labour – and pro-Israel Sajid Javid and Rehman Chishti, former campaigner for Pakistan's former prime minister Benazir Bhutto, belong to Conservative Party.
In 2015 only nine Pakistani-origin politicians won elections.
Other Muslim candidates who have made their way into parliament include Bangaldeshi-origin Roshanara Ali of Labour from Bethnal Green, professor Rupa Asha Huq from Ealing, and Tulip Siddique from Hampstead.
Palestinian-origin school teacher Lyla Moran is elected on Liberal Democrats ticket.
The UK is home to the largest Pakistani community in Europe, with the population of British Pakistanis exceeding 1.17 million out of country's total Muslim population of 3 million. British Pakistanis are the second largest ethnic minority population in the United Kingdom and also make up the second largest subgroup of British Asians.
Corbyn will not be prime minister but has proved to be the most honest and pro-people leader in Britain at the present time. The Brexit issue prevented him from obtaining a majority or enough seats to form a coalition government. May's strategy paid off in this regard. Many voters preferred the Conservatives over Labour because of Brexit negotiations. The Jewish-controlled British press played its part as well. The media ganged up against Corbyn and tried everything to stop his march towards the victory.