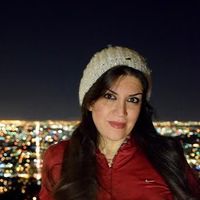 In 2009 when Ms Negar Azizmoradi, 30, leader of Iran's Illamuniti Raelian cult escaped from her country of birth (Iran) to Turkey seeking political asylum, she was arrested and put in jail. Why? According to US-based Israel's lobbyist Tablet magazine, Turks Muslims like their Iranian brothers believe that Raelian Movement's 'Human Evolution' creed is based on Charles Darwin's hypothesis, whom they consider an atheist Jew.
Ms Azizmoradi was released from Turkish custody and allowed to seek asylum in United States as result of a campaign run by Jewish-controlled media in the US and Canada. She got her wish in United States in 2011.
On December 6, 2009, Rael thanked Turkey over the release of Azizmoradi in a statement, saying: Turkey has shown great respect for human rights and definitely deserves to be accepted as a member of the European community. The Turkish government can rest assured that all Raelians will fully support Turkey's request to join the European community. Many countries already part of the European community, such as France, Belgium and Switzerland, show less respect for human rights than Turkey has shown, especially in terms of how their religious minorities are treated.
On March 22, 2010, Roger Cohen claimed at the Jew York Times that Negar Azizmoradi contacted him first Turkey for help to get asylum in United States.
In December 2009, Dr. Brigitte Boisselier (French Jew), official spokeswoman of the International Raelian Movement, declared: "70,000 plus members of the Raelian movement have mobilized to help Negar Azizmoradi stay alive. She would had been certainly executed in Iran for being an Atheist."
Interestingly, on June 28, 2010, Dr. Brigitte Boisselier claimed: "Science shows that Jews and Palestinian are Siblings!"
The Raelism, a UFO religion was founded in 1974 by Claude Vorilhon aka Rael, who was born in 1946 to a Jewish father and Catholic mother. I'm not sure if they're Holocaust survivors. Rael thinks that Michael Jackson has been cloned and is now alive and well on another planet.
As I said many times before, I don't care which god or man-made religion including Jew Holocaust one worship as long as they don't misuse their god or religion to demonize Muslims or Islam. None of the 57-Muslim majority nation-state has laws to execute its citizen for being atheist or secularist.
So why I'm digging this old story? Well, I noticed Negar Azizmoradi's latest whining at Gilad Atzmon blog claiming harassment at her workplace at the hands of the Holocaust Mafia for wearing Raelism symbol of Star of Zion and Hindu Swastika.