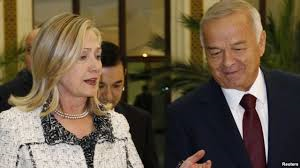 Islam Karimov, president of Uzbekistan died at age 78, on Friday and was buried on Saturday.
Islam Karimov, a former Soviet KGB official-tuned nationalist ruled the country with iron fist for 27 years. He was a US-Israel ally against Islam re-emerging as a political force on the world arena. He was courted by anti-Muslim war criminals such as Dubya Bush, Hillary Clinton, Donald Rumsfeld, John Kerry, Tony Blair, Shimon Peres, Benjamin Netanyahu, Vladimir Putin, and Narendra Modi.
Craig Murray, former British ambassador to Uzbekistan and author of book, Murder in Samarkand, wrote: "Karimov was courted as the strong man who held Central Asia against Islamic fundamentalism. His methods – imprisoning, torturing and killing anybody who appeared religious – were viewed as admirable. That all reputable sources acknowledge that 10,000 people are imprisoned solely for their political and religious beliefs did not matter. That young men can be imprisoned or disappeared solely for growing a beard, or for praying five times a day, was viewed as effective".
Some of Uzbekistan prisoners like Saudi prisoners are fighting along the US-Israel created ISIS.
The western pro-Israel pundits are having a field day guessing who would fit-into Karimov shoes. For example, Washington Post's Jewish pundit Rick Noak on September 3, wished Karimov's Harvard-educated cabinet minister, ambassador, pop singer (listen below), and businesswoman daughter Gulnara Karimov, presently under house arrest over allegedly money-laundering, to take her father place.
The other possible candidate is country's current prime minister Shavkat Miromonovich Mirzaeyev, 58, considered more ruthless than Islam Karimov.
"The general consensus is that PM Mirziyoyev is the most likely successor at present," David Lewis, the Jewish pundit at the UK's University of Exeter told Jewish Politico eu.
There are over 70,000 Uzbek Jews living in Israel. Uzbekistan chief rabbi Baruch Abramzaiov told Jewish media that passing of Islam Karimov wouldn't effect over 7,000 Jews still living in Uzbekistan.
Iran's foreign minister Dr. Mohammad Javad Zarif attended Krimov's funeral in Samarkand.
Israeli president Reuven Rivlin sent a condolence message to Mirzaeyev.
Uzbekistan has 30 million population – 90% of them being Muslims.