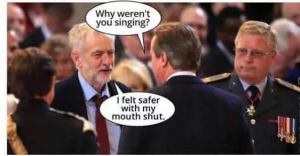 Joan Ryan MP, chairwoman of Labour Friends of  Israel (LFI) has "invited" party's new leader Jeremy Corbyn to speak at its reception at Labour party conference in Brighton next week.
It's traditional for the party leader to address the function and he doesn't need an invitation from some party's moron MP. This was another attempt to discredit Jeremy Corbyn. I bet Ms Ryan is jealous of Jewish MP Luciana Berger accepting the post of Minister of Mental Health in Corbyn's shadow cabinet.
Jeremy Corbyn MP, had been and continue to be victim of character assassination by the pro-Israel lobby groups including UK's prime minister David Cameron for his association with anti-Israel resistance groups like Hamas, Hizbullah, Paul Eisen, founder of Jews for Justice for German, and even Iran's Press TV.
After being demonized by UK's Jewish lobby groups for years – Jeremy Corbyn finally decided to pull a rabbit out of his Lenin hat. Last week he told Church Times that he does have a "pinch of Jewish blood" from his German ancestry. Now, if some idiot believes Zionist myth that prophet Abraham was Jewish, then we're all Jews.
On September 17, David Hirsch, a lecturer at UK's Goldsmith College at London University, demanded further clarification from Corbyn of his anti-Israel activities.
Israeli media is very upset over Corbyn's victory. They have claimed that with Corbyn leading HRM Opposition, UK has began its exit from the World Stage; Whatever that means!
Jeremy Corbyn will need many more tricks to pull to survive as leader of the party. He, no doubt, has the backing of a great majority of party members but not the party's parliamentary caucus. Nearly 70% of Labour MPs are known to be pro-Israel. The only conceivable strategy for Corby to succeed is mass de-selection of Israeli shills, which may require a miracle.