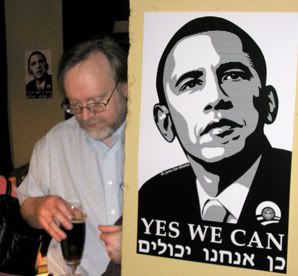 Jewish Lobby propaganda to push Washington into another suicidal military adventure in the Middle East on behalf of Israel has reached in its final stages. The Lobby is carrying more vicious propaganda than its carried out against Taliban (in 2001) and Saddam Husein (in 2002).
Rabbi Eric Yoffie, head of the Reformed Jewish movement in America – wrote an Op-Ed in Jewish magazine FORWARD on May 19, 2010, under the heading "Geting Serious About Iran" in which the cunning Rabbi blamed Tehran being behind all the Middle East terrorism and a stumbling block in Israel's ethnic cleansing of the native Palestians. He believes that a nuclear Iran may not be a threat to the US, but it certainly is a grave threat to the Zionist entity: "Even if Iran were to develop nuclear weapons and never use them, the danger to Israel would still be intolerable. Israel cannot live in the shadow of a nuclear Iran. In the minds of its own citizens and of the world community, Israel would cease to be a safe place to live. In addition, any possibility of an Arab-Israeli peace might disappear forever, as moderate Arab states drift out of America's orbit and into Iran's," he wrote. In other words, the Rabbi believes that for the survivalof Israel depends on it being the un-challengeabl bully in the region.
The Rabbi also believes that the Zionist regime with world's 4th largest army – cannot achieve victory over the Islamic Republic without the the direct military involvement of United States: "There is no conceivable solution to the threat of a nuclear Iran that will not require American leadership. All of the options  – whether economic sanctions or military action — are impossible without American support," he wrote.
The Turkish-Iran-Brazil declaration is not much  different than the Washington's draft last October. However, the ZOG in Washington never expected Tehran to reverse the 'smoking gun' on it. So it was rejected outright by Obama administration – calling it an Iranian tactic to delay the fourth round of UNSC sanctions against it. The US-sponsored draft included boycott of oil refinery equipment supply and freezing of Iran's foreign assests which America & Co. believe fund the 125,000-strong Islamic Revolutionary Guard Corps, which has been classified as a terrorist group by US State Department. Benjamin Netanyahu had assured Obama that such 'Crippling Sanctions' would push Iranian people to rise against their Islamist government. Being affraid to be called 'an anti-Semite', I wonder how the Zionazi leader reached to that conclusion. It's true that Islamic Iran imports 40% of refined oil for its local consumption – but Ahmadinejad has already given 'go-ahead' orders for the construction of seven new refineries, expected to be in operation by 2013 – which will produce enough refined oil to stop not only Iranian oil import but Tehran would be able to export some of it too. The freeze on Iran's foreign exchange had been put before and have failed miserably. In 1980, Washington had frozen Iran's foreign exchange worth US$14 billion (currently worth more than US$28 billion). Early this year, Iran's $2 bllion from Citibank was put on hold to pay as compensation to the families of US Marines killed or injured in Israeli false-flag operation in Beirut in 1983.
On international level – Brazil's president Lula received Chinese agreement but an arrogant response from Barack Obama. Turkish Prime Minister said: "The countries criticizing the accord are envious because Turkey and Brazil brokered and pull off a diplomatic success that other countries had been negotiating for many years without results". 
The  Turkey-Iran-Brazil nuclear deal received conflicting reviews in Iran. Iran's mass-circulated daily Kayhan called the deal Ahmadinejad gpvernment's power and popularity and said that some people might consider the deal as "Iran's backing down from its previous position" it's actually a victory for the Islamic Republic. The daily Jam-e-Jam which have been critical of some of Ahmadinejad's policies in the past, called the deal as a "great victory". Fars News also called it a "great achievement". Iran Daily called the deal "a diplomatic checkmate" in which the Obama administration was defeated by Iran's wise diplomatic maneuvering. Even some of the leaders of the pro-American 'Green Revolution' wrote a letter on May 18, saying they "would support the nuclear fuel deal out of considerations for national interests" and expressed hope that this deal would put an end to the western "nuclear adventurism".
However, not everyone's reaction to the nuclear deal was positive. Daily Jomhuri Eslami, a paper considered to be the voice of the "conservatives and the moderates" – ran an editorial on May 18, harshly criticizing the deal as "backing down" on the part of Iran. Jomhuri Eslami accuses the government of ignoring the specific guidelines of Supreme Leader Ali Khamenei regarding any uranium exchange deal. According to Jomhuri Eslami, Ayatollah Khamenei had set out three rules for any uranium swap agreement: 1- The exchange of low enriched uranium for high enriched fuel must take place simultaneously; 2- Any exchange must take place on Iranian soil; and 3- The amount of uranium to be exchanged must be determined according to Iran's needs. Jomhuri Eslami claims that all three rules were violated by the recent Ahmadinejad deal.