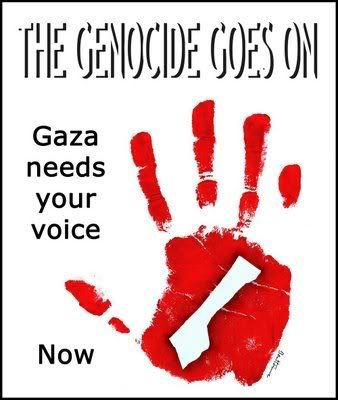 The world-renowned critic of Zionist regime in Palestine – British MP George Galloway who led the recent Viva Palestina convoy of 550 people from 17 different countries – was officially deported from Cairo on Friday when about 25 of Egyptian uniformed plain clothes police officers bundled him onto a London plane.
Earlier, George Galloway was interviewed via phone from Gazzah by Amy Goodman at Democracy Now! – in which George Galloway exposed the Israel-US-Egypt evil trio behind the sufferings of 1.5 million Muslims and Christian natives. Their crime was that after being fed-up with the hypocrite and corrupt leadership for more than five – they voted for 'a change'. They elected Islamic resistance Hamas.
"The Egyptian people are entirely behind the Palestinian under seige. Unfortunately, the are ill-served by a government that is playing a quite despicable role. Egyptian government is building what we call the 'Wall of Shame' – which is being done in conjunction with the US military to try to choke off the tunnels which are the only other mean of bringing life to Gazzah, in which sheep and chickens, petrol and gas and the other means of staying alive other than medicine. We brought medicine and other humanitarian supplies but not food". Egyptians under Obama orders, are not allowed to let foodstuff hrough the Rafah gate on Egyptian side. It must be diverted to Israeli lines, who as good Jews, are very much concerned about the health of Gazzan and don't them to get food-poisoning. 
"The living conditions in Gazzah are desperate. If I give you a tiny example, only to give you an example – I am here in quite a nice hotel, except there is no food in the hotel. There is no food for breakfast, there's no food for the lunch. Now I make that point only to illustrate that if there is no food in the best hotel in Gazzah, imagine what the people are suffering. I have watched with my own eyes Palestinian women and girls in the early morning mist on top of garbage heaps, combing through the garbage heaps looking for food. " I bet, the famous holocaust story-teller, Simon Wiesenthal, would love to use Galloway's Gazzah experience as his new storyHolocaust story.
"If I were a Palestinian, I would not have voted for Hamas. I am not a Hamas supporter. But the only people entitled to choose the leadership of Palestinians are the Palestinians themselves."
"Barack Obama's speech at Cairo transfixed the Arab public opinion, that finally, after the Bush years, we had some hope. But in practice, his policy – as one assumes Hillary Clinton is carrying out his policy – is exactly the same as the policy of the Bushites towards the people here. And there is bitter, bitter disappointment about that."