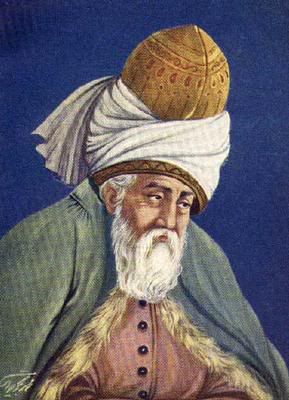 Abrahim Gamard, an American psychologist (he converted to Islam in 1984 and performed Hajj in 1999) along with the former Afghan diplomate, professor Rawan Farhadi, has translated in English all the quatrains of the Persian poet Maulana Rumi.
Coming September 30, 2008 – would be 801st Birthday of Maulana Jalal ad-Din ar-Rumi (1207-1273), the greatest Sufi poet. During his life-time, not he was loved by Muslims of Konya (Turkey), but his poetry also influenced Christian clergy and Jews. Rumi was burried in a place now occupied by the Green Dome. Perhaps, he, himslf, was the one who wrote his own epitah:
"Not more than three words
My whole life is condensed in these three words
I was raw, now I am cooked and burnt".
His eldest son, Sultan Veled organized his disciples and followers into a mystical fraternity, known as "Mevleviyya" or the Order of Whirling Dervishes. Rumi's followers can be found in Turkey, Iran, Afghanistan, Pakistan, and India.
Rumi was born in Balkh, in Eastern Persia, now called Afghanistan. Between 1212-1219, his family moved to Konya, capital of Selijuk dynasty – where he composed huge collection of mystical odes entitled "Divani-Shams Tabriz", named after his beloved teacher and friend.
While the West has 'progressed' through scientific knowledge, monopoly over world's financial sector, and military with deadly arsenals – the vast majority of its citizen have lost moral values and happiness. The suicide cases and people in jails – are highest in the West as compared to the rest of the world. Rumi prophesized this more than seven centuries ago:
"Though you believe in the accuracy of the
scholastic knowledge, it will not open your
inner eyes to invisible existence,"- Masnawi 6/263.
Elsewhere he said – "Man's original food is the light of Allah," – Masnawi, 2/1086.
"Allah gave you two legs, Why do you make
yourself out to be lame? He gave you two
hands to make you understand that you must
do something," – Masnawi 1/933-951.